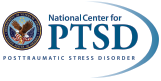 My Summary
This is a summary of my treatment needs and preferences that I uncovered by using the PTSD treatment decision aid tool. My provider can use this summary to help me decide where to go from here.
I LEARNED what I want in a PTSD treatment
I COMPARED different PTSD treatments
Based on what I liked about different treatments, the following treatments might be a good fit for me:
No answer.
I would like to discuss these treatments with my provider:
No answer.
I took steps to ACT on a treatment that seems right to me
My goals for treatment:
No answer.