Attention A T users. To access the menus on this page please perform the following steps. 1. Please switch auto forms mode to off. 2. Hit enter to expand a main menu option (Health, Benefits, etc). 3. To enter and activate the submenu links, hit the down arrow. You will now be able to tab or arrow up or down through the submenu options to access/activate the submenu links.

PTSD: National Center for PTSD
Written Exposure Therapy for PTSD
Written Exposure Therapy for PTSD
Written Exposure Therapy (WET; 1) is a manualized exposure-based psychotherapy for PTSD that is recommended by the VA/DoD Clinical Practice Guideline (2). A growing number of studies indicate that WET is effective for PTSD, even among patients with complicated presentations and other comorbid disorders (3-5). In addition, compared with other trauma-focused treatments, a low number of those who receive WET drop out of treatments (e.g., less than 10%; 1).
Continuing Education
Written Exposure Therapy
Explains the theoretical model and session content of Written Exposure Therapy (WET), including a review of effectiveness research and studies.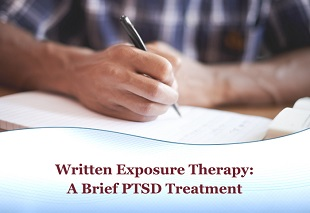 Theoretical Model
The WET treatment protocol was developed through a series of systematic studies. Based upon a fear extinction/emotional processing treatment model, these studies examined the extent to which trauma survivors with PTSD symptoms experienced symptomatic relief from writing about their experiences. The amount of writing necessary to bring about clinically significant symptom change was also evaluated (1).
This work indicated that 5, 30-minute writing sessions in which patients are directed to write about a traumatic experience in detail, paying particular attention to their thoughts and emotions that occurred at the time of the event, resulted in reduction of pathological fear and subsequent significant PTSD symptom reduction. Using an empirically derived set of instructions for repeatedly writing about their traumatic experience, the patient learns that:
The trauma memory is not dangerous and can be experienced without significant distress.
Distress associated with remembering the trauma is transient.
Emotional distress gradually reduces with time, even without doing anything.
Physiological responses, such as rapid heart rate and sweating, are not dangerous.
High negative affect can be tolerated.
It is possible to develop new ways of thinking about the trauma event and its meaning.
Patients are not required to conduct in vivo exposures outside of sessions. However, research has found that confronting previously avoided people, situations and places related to the trauma occurs spontaneously in WET (6).
Although evidence supports the hypothesis that fear extinction is an underlying mechanism of WET (7), it is possible that other mechanisms are also responsible for the clinically significant symptom reductions observed among those who receive WET, and some support has been found for additional mechanisms such as cognitive change (8,9).
Session Content
The WET treatment protocol consists of 5 sessions, with each session lasting approximately 50 minutes. During each session, patients write narratives about their traumas in response to specific writing instructions. There are no between-session assignments.
The first treatment session starts by providing the patient with psychoeducation about PTSD and a treatment rationale. This is followed by the patient completing the first, 30-minute trauma narrative. Following the 30 minutes of writing, the therapist checks in with the patient about their experience while completing the written narrative. In the remaining 4 sessions, clinicians provide feedback to patients on the previous session's writing, specifically on how well the client followed the writing instructions, deliver instructions for the writing to be done during that day's session, allow the patient to complete the day's 30-minute writing assignment, and check in with the patient about the session's writing assignment after it is completed. At the end of the session, patients are instructed to allow themselves to have whatever trauma-related feelings, thoughts or memories that they may experience during the course of the week without trying to push them away. Treatment sessions are highly scripted, ensuring standardization of treatment delivery and increasing provider adherence to the protocol.
Overall and Relative Effectiveness
To date, findings from 6 published randomized controlled trials (RCTs; 5,6,10-13) support the effectiveness of WET. Patients who receive WET show significant reductions in PTSD symptoms, with large within-group effects observed in each of the studies. Moreover, most of those who receive WET no longer meet diagnostic criteria for PTSD after treatment (6,10) and maintain their treatment gains up to a year after treatment (4-6,10). Three RCT studies have found that WET was non-inferior to both Cognitive Processing Therapy (5, 10) and Prolonged Exposure Therapy (PE;13) in terms of PTSD symptom reduction, despite having more than half as many therapy sessions in the treatment protocol. Moreover, these studies found significantly lower dropout rates for WET compared to both CPT and PE. Studies examining moderators (e.g., severity of PTSD, comorbid psychiatric disorders, baseline depression, race, sex) of WET treatment outcome revealed no significant moderators of PTSD symptom change (3,14).
To date, the majority of RCTs that have provided the evidence of efficacy for WET have been conducted by the treatment developers. Several other studies examining the efficacy and effectiveness of WET led by other investigators are currently underway and findings from these studies should be available in the next several years.
WET in Clinical Practice Guidelines
WET is recommended as a second-line treatment for PTSD in the 2023 VA/DoD Clinical Practice Guideline for Managing PTSD and it is listed as an emerging recommended treatment in the International Society for the Study of Traumatic Stress (ISTSS) guideline (15). It is not mentioned in American Psychological Association (APA, 16), National Institute for Health and Care Excellence (NICE, 17), or Australian guidelines (18).
Research With Military Personnel and Veterans
To date, there have been multiple studies examining the efficacy and effectiveness of WET with military service members and Veterans. One RCT study compared WET with CPT in the treatment of PTSD among active-duty service members and found WET to be effective in the treatment of PTSD and non-inferior compared to the more time-intensive treatment (5). Another study comparing WET with PE among military Veterans found WET to be effective in the treatment of PTSD and non-inferior compared to PE (13). Another study examined the effectiveness of WET with Veterans presenting for PTSD treatment in VA, and this study also found WET to be effective (14). An open trial investigating the effectiveness of WET delivered in a group format to Veterans who were in a residential substance use treatment program observed WET to be effective in the treatment of PTSD (19). Lastly, a small open trial examining the delivery of WET to service members while they were admitted to a psychiatric inpatient unit for suicide risk found WET to be effective in reducing PTSD symptoms (20).
In addition to these studies, there are currently multiple studies underway that are investigating the effectiveness of WET with Veterans and service members (see clinicaltrials.gov).
Research With Comorbidities and Special Populations
Findings to date indicate WET is effective for patients that have severe and chronic PTSD symptoms, and psychiatric comorbidity, such as depression (4,14,20,22-24) and substance use disorders (19,21). Moreover, WET is comparably effective at significantly reducing co-morbid depression symptoms among individuals with PTSD as CPT (4).
Research Across Diverse Populations
More research to understand the effectiveness of WET taking into account patient race/ethnicity, gender, sexual orientation and other social factors associated with health disparity is needed.
Emerging Issues
As previously described, there are a number of studies underway examining the effectiveness of WET with Veterans and service members, as well as in primary care, acute inpatient settings, and residential treatment programs. WET has been delivered using video telehealth platforms (i.e. VA Video Connect) with the narratives collected electronically (e.g. secure messaging) or screen shots taken at end of the session. Findings indicate WET is as effective when delivered via telehealth as face-to-face (14). Phone only delivery of WET is not recommended at this time. An implementation program of WET conducted within VA is examining if different training formats are needed to disseminate WET, as well as examining the effectiveness of using different training models (14,25).
Although the treatment protocol is typically delivered as 5 weekly, 50-minute sessions (1), some research supports the notion that treatment can be delivered more frequently (i.e., in a massed format [20]; treatment sessions occurring on consecutive days [1]). Two of the studies underway are investigating the efficacy of WET delivered using a 6, 30-minute per session version of the protocol in the primary care setting.
References
Sloan, D. M. & Marx, B. P. (2019). Written Exposure Therapy for PTSD: A brief treatment approach for mental health professionals. American Psychological Press. http://dx.doi.org/10.1037/0000139-001
Departments of Veterans Affairs and Defense (VA/DoD). (2023). VA/DoD clinical practice guideline for the management of posttraumatic stress disorder and acute stress disorder. Author. Retrieved from: https://www.healthquality.va.gov/guidelines/MH/ptsd/
Marx, B. P., Thompson-Hollands, J., Lee., D. J., Resick, P. A., & Sloan, D. M. (2021). Estimated intelligence moderates Cognitive Processing Therapy outcome for posttraumatic stress symptoms. Behavior Therapy, 52, 162-169. http://dx.doi.org/10.1016/j.beth.2020.03.008
Thompson-Hollands, J., Marx, B. P., Lee, D. J., Resick, P. A., & Sloan, D. S. (2018). Long-term treatment gains of a brief exposure-based treatment for PTSD. Depression and Anxiety, 3(10), 985-991. https://doi.org/10.1002/da.22825
Sloan, D. M., Marx, B. P., Resick, P. A., Young-McCaughan, S., Dondanville, K. A, Straud, C. L. Mintz, J., Litz, B. T., & Peterson, A. L. for the STRONG STAR Consortium. (2022). Effect of Written Exposure Therapy vs Cognitive Processing Therapy on increasing treatment efficiency among military service members with posttraumatic stress disorder: A randomized noninferiority trial. JAMA Open Network, 5(1), e2140911. https://doi.org/10.1001/jamanetworkopen.2021.40911
Sloan, D. M., Marx, B. P., Bovin, M. J., Feinstein, B. A., & Gallagher, M. W. (2012). Written exposure as an intervention for PTSD: A randomized controlled trial with motor vehicle accident survivors. Behaviour Research and Therapy, 50(10), 627-635. https://doi.org/10.1016/j.brat.2012.07.001
Wisco, B. E., Baker, A. S., & Sloan, D. M. (2016). Mechanisms of change in written exposure treatment of posttraumatic stress disorder. Behavior Therapy, 47(1), 66-74. https://doi.org/10.1016/j.beth.2015.09.005
Alpert, E., Hayes, A. M., Barnes, J., B., & Sloan, D. M. (2023). Using client narratives to identify predictors of outcome in Written Exposure Therapy and Cognitive Processing Therapy. Behavior Therapy, 54(2), 185-199. https://doi.org/10.1016/j.beth.2022.09.002
Lee, D. J., Marx, B. P., Thompson-Hollands, J., Gallagher, M. W., Resick, P. A., & Sloan, D. M. (2021). The temporal sequence of change in PTSD symptoms and hypothesized mediators in Cognitive Processing Therapy and Written Exposure Therapy for PTSD. Behaviour Research and Therapy, 144, 103918. https://doi.org/10.1016/j.brat.2021.103918
Sloan, D. M., Marx, B. P., Lee, D. J., & Resick, P. A. (2018). A brief exposure based treatment for PTSD versus Cognitive Processing Therapy: A randomized non-inferiority clinical trial. JAMA Psychiatry, 75(3), 233-239. https://doi.org/10.1001/jamapsychiatry.2017.4249
Ahmadi, S. J., Musavi, Z., Samim, N., Sadeqi, M., & Jobson, L. (2022). Investigating the feasibility, acceptability and efficacy of using modified-Written Exposure Therapy in the aftermath of a terrorist attack on symptoms of posttraumatic stress disorder among Afghan adolescent girls. Frontiers in Psychiatry, 13, Article 826633. https://doi.org/10.3389/fpsyt.2022.826633
Zolfa, R., Moradi, A., Mahdavi, M., Parhoon, H., Parhoon, K., & Jobson, L. (2023). Feasibility and acceptability of Written Exposure Therapy in addressing posttraumatic stress disorder in Iranian patients with breast cancer. Psycho-Oncology, 32(1), 68-76. https://doi.org/10.1002/pon.6037
Sloan, D.M., Marx, B.P., Acierno, R., Messina, M., Muzzy, W., Gallagher, M.W., Litwack, S., & Sloan, C. (2023). Written Exposure Therapy versus prolonged exposure in the treatment of PTSD: A randomized non-inferiority clinical trial. JAMA -Psychiatry https://doi.10.1001/jamapsychiatry.2023.2810
LoSavio, S. T., Worley, C. B., Aajmain, S., Rosen, C., Stirman, S. W., & Sloan, D. M. (2023). Effectiveness of Written Exposure Therapy for posttraumatic stress disorder in the Department of Veterans Affairs Healthcare System. Psychological Trauma: Theory, Research, Practice, and Policy, 15(5), 748-756. http://dx.doi.org/10.1037/tra0001148
International Society for Traumatic Stress Studies (ISTSS). (2018). ISTSS PTSD prevention and treatment guidelines: Methodology and recommendations. Author. Retrieved from: http://www.istss.org/getattachment/Treating Trauma/New-ISTSS-Prevention-and-Treatment-Guidelines/ISTSS_ PreventionTreatmentGuidelines_FNL-March-19-2019.pdf.aspx
American Psychological Association (APA). (2017). Clinical practice guideline for the treatment of posttraumatic stress disorder (PTSD) in adults. Author. Retrieved from: https://www.apa.org/ptsd-guideline
National Institute for Health Care Excellence (NICE). (2018). Guideline for post-traumatic stress disorder. National Institute for Health and Clinical Practice. Retrieved from: https://www.nice.org.uk/guidance/ng116/chapter/Recommendations
Phoenix Australia Centre for Posttraumatic Mental Health. (2021). Australian guidelines for the prevention and treatment of acute stress disorder, posttraumatic stress disorder and Complex PTSD. Australian Government, National Health and Medical Research Council. Retrieved from: https://www.phoenixaustralia.org/australian-guidelines-for-ptsd/
Schumacher, J. A., Kinney, K. L., Morris, M. C., & McAfee, N. W. (2022). Biweekly delivery of a group-based adaptation of Written Exposure Therapy (WET) for PTSD in residential substance treatment. Cognitive Behavioral Practice. Advance online publication. https://doi.org/10.1016/j.cbpra.2022.02.024
Tyler, H., Fina, B. A., Marx, B. P., Young-McCaughan, S., Sloan, D. M., Kaplan, A. M., Green, V. R., Blankenship, A., Bryan, C. J., Peterson, A. L., & STRONG STAR Consortium. (2022). Written Exposure Therapy for suicide in a psychiatric inpatient unit: A case series. Cognitive and Behavioral Practice, 29(4), 924-937. https://doi.org/10.1016/j.cbpra.2021.06.011
Schacht, R. L., Wenzel, K. R., Meyer, L. E., Mette, M., Mallik, K. K., Rabalais, A., Berg, S. K., & Fishman, M. (2023). A pilot test of Written Exposure Therapy for PTSD in residential substance use treatment. The American Journal on Addictions. Advance online publication. https://doi-org.ezproxy.bu.edu/10.1111/ajad.13442
Andrews, A. R., III, Acosta, L. M., Canchila, M. N. A., Haws, J. K., Holland, K. J., Holt, N. R., & Ralston, A. L. (2022). Perceived barriers and preliminary PTSD outcomes in an open pilot trial of Written Exposure Therapy with Latinx immigrants. Cognitive and Behavioral Practice, 29(3), 648-665. https://doi.org/10.1016/j.cbpra.2021.05.004
Morissette, S. B., Ryan-Gonzalez, C., Blessing, A., Judkins, J., Crabtree, M., Hernandez, M. F., Wiltsey Stirman, S., & Sloan, D. M. (2023). Delivery of Written Exposure Therapy for PTSD in a university counseling center. Psychological Services, 20(1), 122-136. https://doi.org/10.1037/ser0000608
Stoycos, S. A., Straud, C. L., Blankenship, A. E., Marx, B. P., Peterson, A. L., Resick, P. A., Stanley, I., Young-McCaughan, S., & Sloan, D. M., For the STRONG STAR Consortium (2022, November 9-12). Examining secondary outcomes for military service members treated with Written Exposure Therapy and Cognitive Processing Therapy for PTSD [Conference presentation]. International Society of Traumatic Stress Studies 38th Annual Meeting, Atlanta, GA.
Worley, C.B., Rosen, C.R., Losavio, S.T., Aajmain, S.T., Wiltsey Stirman, S., & Sloan, D.M. (in press). An examination of individual and organizational theory in a pilot virtual facilitated learning collaborative to implement Written Exposure Therapy. Psychological Services. Advance online publication. https://doi.org/10.1037/ser0000698
return to top